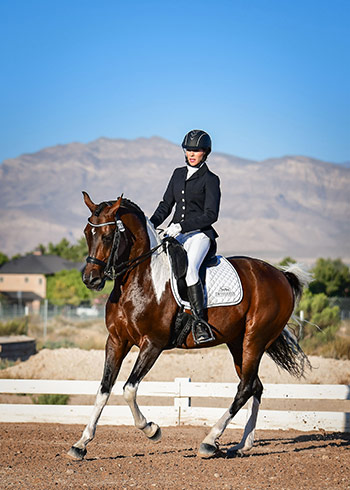 PASSIONATE SINCE BORN
Born in the USA, grew up in France, first experience on a horse at 2 years old, started riding in a Pony Club at the age of 6, then trained in South of France.
Since a young age, very interested in the different horseback riding disciplines such as Dressage, Jumping, Eventing (also competed in a high level in those 3 disciplines) Vaulting, Horseball and Spanish riding (Andalusian and Lusitano dressage show and events). Wasn't a big fan of Dressage at first when was a kid (boring circles and too slow compare to jumping and eventing).
Was doing good in eventing competitions but realized the importance of the Dressage part to win a show. So started to refine her skills in Dressage.
Went to Sport University in France, graduate from Bachelor of Sport Management and Marketing; and became an independant Horse Trainer.
AMERICAN DREAM
In 2007 moved back in the United States, rode and trained Jumping in Wellington, Florida for a year.
Moved to Las Vegas in 2008, got a great opportunity to be the Head trainer for 3 years for a famous Medieval Show, "The Tournament of Kings" at the Excalibur Hotel in Las Vegas, mixing Western riding skills with jousting, fight sword and javelin; without forgetting the beauty of the Andalusians and Frisons she worked with, playing with some piaffe, passage and levade moves.
On the side of working at night at the Medieval Show, built her business JB Horsetraining, teaching kids and adults, pleasure and competition, beginners and advanced riders, special needs kids; training horses, working on different disciplines such as Dressage, Hunter/Jumper, English Pleasure, Western Pleasure, Western Dressage, Horseball, Vaulting, Young Horses.
Competing in Dressage, Hunter/Jumper, Arabian Shows, Western Dressage, English and Western Pleasure.
USDF Dressage Bronze and Silver Medals
Coached by Chris Federer. Rode in Dressage Clinic with Silke Rembacz, Craig Stanley, Alfredo Hernandez, Kamila Dupont ; Jumping Clinic with Greg Best, Everardo Hegewisch
FEI HORSE SKIES THE LIMITT +/
Jessie came all the way up with 1 same horse to Prix St Georges Dressage Level on her 12 year old rescue Half Arabian paint Stallion, Skies The Limitt+/ (the other half is American Saddlebred, which makes him a National Show Horse).
Know him since he was 4 years old (as a client s horse), he wasn't trained on the ground or even broke.
Broke him and trained him for a year.
Then he bounced from barn to barn because the previous owner couldn't afford him anymore.
He was locked in a stall for 9 months without going out at all, barely fed, no maintenance, no cares, no love.
When she saw him like that she cried and decided to rescue him in 2014.
It took her a whole year to put him back in shape physically and mentally.
Tried to jump him (one of her favorite discipline) he jumped but wasn't fast enough or skilled enough. He loves to show off and dance, so she thought at that moment 'let's do Dressage'.
Started from the beginning, Training Level and moved him all the way to PSG in less than 4 years of showing.
They are scoring in the mid 60 s in PSG.
She got couple awards in Half Arabian breed (Legion Supreme of Honor), CDS SportHorse Award Mature Stallion 2018 and Champion Annual Awards in Dressage Local Season Show LVCCDS.
Because her horse is a Half Arabian, she was curious to know more about that amazing World. She showed Sky (his barn name) 3 times at the Regional Championship in Scottsdale, AZ. They had a fabulous time and scored great in Dressage. This year 2019 was their best year from all of them, they got 1 Champion title (3rd Level Dressage) and 2 Reserve Champion (4th Level Dressage and Dressage Sport Horse Show Hack).
WESTERN DRESSAGE WORLD CHAMPION
In April 2019, her horse, at the very last minute, was a Demo Horse for Train the Trainer Western Dressage program in Las Vegas due to complications of bringing horses from outside the facility (that was the first experience ever for him in Western Dressage and under Western tack; Jessie personally showed and trained Western Dressage but only for her clients and their horses).
She had the chance to meet 2 amazing Western Dressage Clinicians, Frances Carbonnel ans Cliff Swanson, who told her that her stallion would do a great Western Dressage horse and she should definitely show him in that fun and interesting discipline.
She took their words in action, only did 1 Western Dressage Schooling local show in June and here she decided to signed up Sky for the Western Dressage World Championship Show in October 2-6th 2019 in Guthrie, OK (go big or go home).
October 2019, after 2 long days of trailering and traveling accros 5 states and over 1,300 miles, their journey started at the Lazy E Arena, OK.
Sky was a little excited to discover a new show ground surrounded by beautiful green space for miles and miles.
They showed for 5 days.
They got their very first World Champion WDAA title ! (Level 1 Test 3) along other awards :
WDAA Arabian/Half Arabian Breed High Score Award with a score of 77.222%
High Score CAWDA Horse & Rider
4th Place WDAA Level 1 Division
6th Place WDAA Level 1 Test 4
8th Place WDAA Level 1 Test 1
SPONSORS
Sponsored in Dressage by Devoucoux Saddlery and in Western Dressage by Schleese.